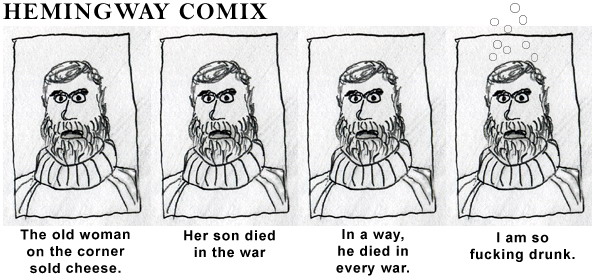 Owen: This showed up like six times in my Google reader today. Apparently people like it. What do you think about it?
Victor: I don't like when people think the word "cheese" is funny. And "I am so fucking drunk" is kind of a predictable "non sequitur" punchline but I could imagine myself laughing at it if I was in a different mood maybe.
Owen: Yeah, this didn't make me laugh, it made me think of mocking it on our blog. I think that "In a way, he died in every war" could be a funny line, if it wasn't sandwiched by crap.
Victor: At first I thought his big puffy mariner's sweater was like a Shakespearean type get-up with one of those giant collars and the thing made even less sense. Remember when you asked me earlier if I remembered that comic
Non Sequitur
? I do. It was pretty good, it got kind of wack in the later years. Was dude hella Christian? It's weird that the spell check doesn't think "sequitur" is a word. Oh wait, I guess because it's Latin. But it's kind of been an English word for a minute...
Owen: Yeah, I remember, that comic was awesome for a while, but I remember it getting really weird and incomprhensible later. Wait, you just left, are we still writing this? I think it probably sucks that people make comics that reference things like Ernest Hemingway in a sort of dismissive way. This isn't actually a joke that you would get if you didn't know who Ernest Hemingway was. I guess that doesn't really matter, but it seems cheap or something.
Victor: Sorry I went to go change the channel cause I'm really not liking Nacho Libre right now. But then I couldn't find anything else and I came back to blog more. Blogmore. What? spellcheck recognizes blogmore as a word but not sequitur. Oh wait, it didn't underline sequitur either. Did it somehow turn off? kjfg OK, yeah.
Owen: I think kjfg is actually a word.
Victor: What?
Owen: Nothing, sorry.
Victor: Nacho Libre is so dumb.
Owen: Yeah, I really don't understand why this movie exists. Oh, and I forgot to say that I couldn't agree more about the "cheese" thing. Also, if Ernest Hemingway ever met the author of this comic he would totally fucking kill him. Easily.
Victor: Oh, what I was about to say was I don't think it's necessarily a bad idea to make a joke about Ernest Hemingway that someone wouldn't understand if they weren't familiar with him. I really think the "cheese" part is probably the most objectionable thing in the comic.
Owen: It's concievable that the author's use of the word cheese was coincidental and he/she doesn't think it's funny either. God dammmit. I don't want to talk about this anymore.
Victor: OK, but like even if he was just like, "OK, what word should I use here? Uh... cheese... perfectly neutral cheese..." that's still stupid. Cheese is a bad filler word in general, but especially in a comedic setup.
Owen: Yeah, I know.
Victor: OK, sorry I made you keep blogging after you said you wanted to stop.
Who Wants to Be a Millionaire?
is on now. More like
Who Wants to Be on a Boring TV Show?
AM I RIGHT?